What is a PBN and how to use it
PBN (Private Blog Network) – a network of your personal websites the main target of which backling profile of your site. To increase better ranking in search engines. PBN building has a pros and risks.
The main goals of using and building PBN networks
The main goals of using and building PBN (Private Blog Network) networks increasing the site positions in the search engine results by obtaining backlinks from private blogs, which are controlled and managed by the owner of the site. Other goals of PBN use: 1. Increase the visibility of the site in search engines 2. Improve the quality and quantity of site backlinks 3. Increase traffic to the site.
How to use FoxWhois domain checker
Monitor
Monitor information about competitor domain names, including registration and expiration dates, ownership changes, registration status in the registry, server information, and other information. This is primarily useful for assessing the quality of a domain and its potential for use in building a PBN network, as well as for controlling changes in information in its domains.

However, you must be careful when using this information and not violate the laws and regulations for the protection of personal data, as well as not use the information received for illegal or dishonest purposes.
Domain portfolio monitoring
Dropcatch deleting domains via Foxwhois
"Dropcatching" (domain catching) - this is a process where, at the end of the domain name registration period, another interested person will instantly register it using the FoxWhois Full automated script.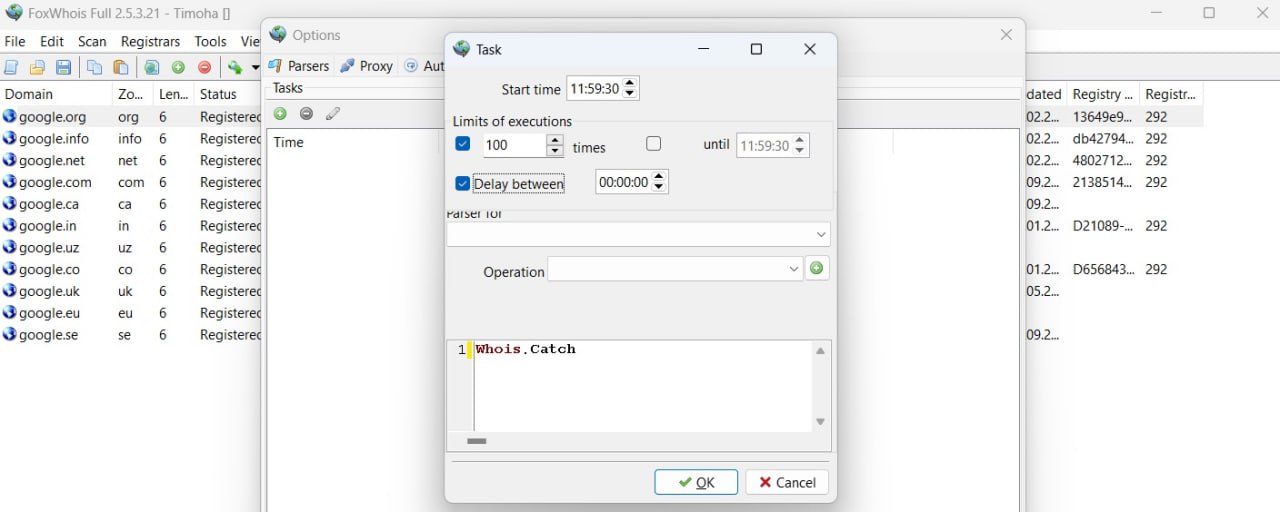 Dropcatching is a legal business. It is a process of register expired domains that not renewed. It could be done by hands or automate process via FoxwWhois domain name catcher.
Monitoring your sites
Foxwhois can be used to monitor your domain names and sites, providing information about the domain, registration periods, domain name status in the registry and information about ns, monitoring the response of the web server, monitoring the titles of the main page. This can be useful for keeping track of domain name information changes, especially if the site is being used as a PBN, and for controlling domain registration dates. This can help you detect problems with the site, the server and take the necessary steps to solve them quickly.
Foxwhois can also be used to monitor competitive domains to track their registration and expiry dates and age.
Pros and cons to build your own PBN
Pros:

The ability to increase the number of backlinks to the site and thereby increase the promoted site in search engine results.
The ability to control and manage the links that lead to the site.
The ability to get high-quality backlinks by creating high-quality content on PBN domains.
Cons:

Dishonesty and inconsistency with search engine policies that may penalize a site for using PBN as a PR method.
Complexity and time spent on building and maintaining PBN.
The risk of being detected and penalized by search engines for using such backlinks.
Subscribe to our telegram channel https://t.me/foxwhois
Download free version of Foxwhois software foxwhois_free_2.5.zip
Order Foxwhois Pro version https://foxwhois.com/pro/order