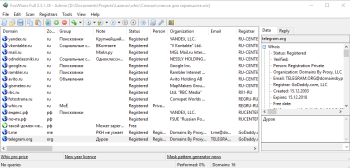 Our FoxWhois 2.5 users of commercial versions have long been using version 2.5, which came after 2.4.
What is new in it and what may interest you?
So, the main changes that came from the moments of release 2.4:
Checking changes from the menu and at the start of the program
Parallel multi-threaded work with the two APIs
Registrar API limits settings
HexoNet.net, INWX, NameSilo, Backorder.ru Registrar API
Setting " don't add 3d level subdomain part..."
Registrar profiles can be edited directly from the settings form
CVS header on export
Setting scan whois: on/off of the secondary queries to the whois servers
Configure the scheduler: the task, the number of repeats, the start time and delay
"Indexed pages" and domain references (references)
Added .ai,.rs,.ro,.vip, .co.pl, cx, xin, gg, site, online, shop, pw, win, bid, gs, am, je, as, me, cm domain extensions
Removed version 2.4 limitation on the number of threads (usually no more than 100). The number of threads per parser is limited to configuration 35*ConfigCode+10
Export form modified
The ability to add any domain to the list, even in the absence of whois parser for a given domain
Added: 64-bit builds for Windows, Linux builds (beta, on demand). MacOS in development!
Improved: whois servers for third-level domains by default from top-level domains.
At the same time, many improvements and corrections were made, and we remind you that the name of the software changed from Whic to FoxWhois.